realme, the world's fastest-growing smartphone brand, has officially launched its ground-breaking realme 11 Series 5G. The brand-new series comprises of the realme 11 Pro+ 5G and realme 11 Pro 5G. As realme hero series, the realme 11 Pro+ 5G is the flagship camera phone of the year. The realme 11 Pro+ 5G and realme 11 Pro 5G offer a luxury master design, featuring a former Gucci Print and Textile Designer.
The realme number Series has achieved 50 million shipments worldwide, marking a significant contribution to realme's path to reaching the 100-million-unit sales mark in record time. Designed with the company's initiative of "No Leap-forward innovation, no product release," the realme 11 Pro+ 5G marks a ground-breaking camera flagship of the year with the world's first 200MP SuperZoom camera – the most powerful among its price range. It not only provides a revolutionary mobile photography experience with its zoom-in capability, higher pixels, but the phone also achieves immense improvements in its design, battery life, memory, and other areas.
As Chase Xu, realme Vice President, Global Marketing President, stated: "The ultimate purpose of the development of mobile imaging is to empower consumers. The realme 11 series is committed to offering smartphones with flagship-level mobile photography. The ultimate goal is to make flagship imaging accessible to everyone so that anyone can capture awe-inspiring photographs in life."
realme 11 Pro+ 5G: World's First 200MP SuperZoom Camera with 4x Lossless Zoom
Ensuring a flagship experience, the realme 11 Pro+ 5G features an upgraded Samsung ISOCELL HP3 SuperZoom sensor, a 1/1.4-inch large sensor size, and an f/1.69 large aperture. The realme 11 Pro+ 5G also supports 200MP direct output—every pixel contributes to the quality of the final picture. Taking pictures is a breeze and a lot of fun. The realme 11 Pro+ 5G leverages in-sensor zoom technology to support 4x lossless zoom, allowing for ultra-high-res photography at a distance. It also newly added Auto-zoom feature, with one tap, the phone will automatically recognize the selected area and intelligently zoom to the selected area with a perfectly framed angle. The realme 11 Pro+ 5G also leaps to flagship camera setting with SuperOIS, Super NightScape, Moon Mode, and Starry Mode Pro enabled, providing the user with more freedom to express their personality. Users can explore the world and discover more pleasure in photography with a 32MP Sony Selfie Camera, Super Group Portrait Mode, One Take Mode, and other features, as well as the fan-favorite Street Photography Mode 4.0.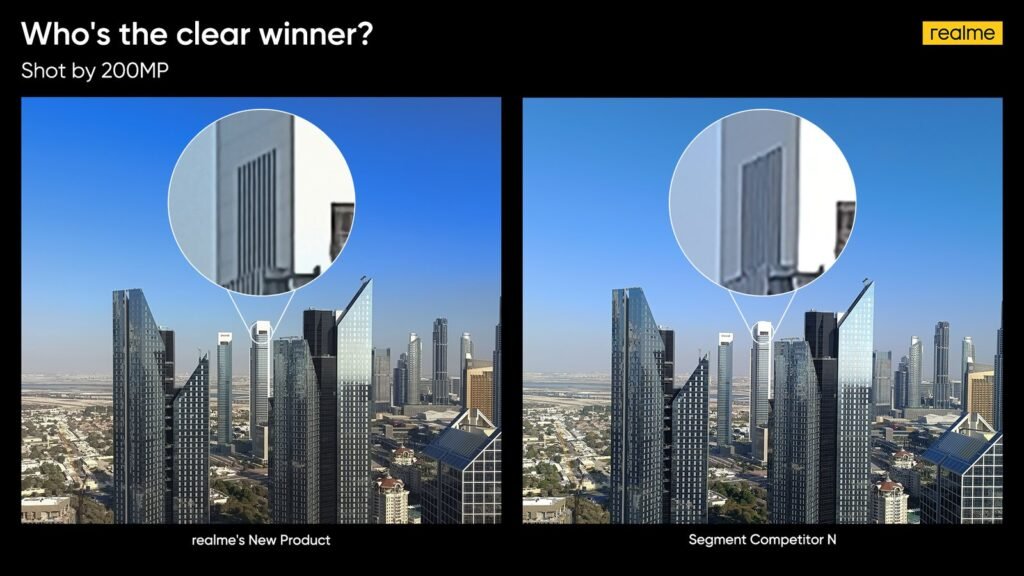 realme 11 Pro+ 5G: Luxury Back-case Design Inspired by Gucci Prints
The realme 11 series has not only made strides in smartphone imaging but also in aesthetic design. In total of three-color variants, Sunrise Beige, Oasis Green, and Astral Black, were developed by the realme Design Studio in collaboration with Matteo Menotto – a former print and textile designer from GUCCI – to bring the high-end design and craftmanship of leading luxury brands to young people all over the globe. The Sunrise Beige takes its aesthetic cues from the city of fashion – Milan. The designer captures the most exquisite and ephemeral moment of a day when the sunlight drapes the classic building on either side in a pale golden hue.
Aside from camera and design, realme 11 Pro+ 5G also stands out because it is a powerful all-rounder, it includes a 100W SUPERVOOC charge and a 5000mAh battery. It uses a 120Hz Curved Vision Display with the 2160Hz – the highest dimming frequency in the industry and the first-ever 20,000-level automatic brightness adjustment.
realme 11 Pro 5G: Premium 2160Hz PWM Dimming with Curved Vision Display
realme 11 Pro 5G comes with the same premium display configuration of realme 11 Pro+5G. It features a 120Hz Curved Vision Display with the world's first 2160Hz PWM dimming. It also features Sunlight Screen and 20,000-Level Automatic Brightness Adjustment, and has been awarded two prestigious eye protection certificates by TÜV Rheinland for its dedication to user comfort and safety.
In addition to its groundbreaking screen technology, the realme 11 Pro 5G also inherits the aesthetic quality of realme 11 Pro+ 5G. The main pattern is reproduced in three colors—Sunrise Beige, Oasis Green, and Astral Black—each of which exudes an air of opulence. realme 11 Pro's supports 100MP direct output, 2× lossless zoom, Auto-Zoom Mode, Super NightScape Mode, and Street Photography Mode 4.0.
With its high-performance, low-power-consumption, and massive storage, the realme 11 Pro is a true flagship smartphone. Equipped with the Dimensity 7050 5G chipset, it comes standard with 12GB RAM and 256GB of internal storage. Further enhancing the robust and high-quality experiences is the inclusion of a 67W SUPERVOOC charge +5000mAh battery, realme UI 4.0, and Dolby panoramic dual speakers