Pakistani Mangoes Shine as Stars of China's 'Mango Expo' at China-Eurasia Expo in Urumqi"
The ongoing five-day China-Eurasia Commodity and Trade Expo in Urumqi, China, is abuzz with excitement as the "Pakistani Mango Festival" takes center stage. Visitors are savoring the sweet and juicy offerings of the 'King of Fruits' from Pakistan, including popular varieties like Sindhri, Chaunsa, and Anwar Ratol.
Ghulam Qadir, Commercial Counsellor at the Pakistan Embassy in Beijing, expressed that this event goes beyond just satisfying taste buds; it symbolizes the strength of cultural exchanges and economic partnerships. He highlighted the special place Pakistani mangoes hold in Pakistan's agricultural landscape and cultural identity, captivating fruit enthusiasts worldwide with their delectable taste and exquisite aroma.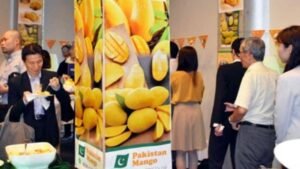 The festival is not limited to mangoes alone; it also provides a platform for visitors to explore various Pakistani products, including textiles, handicrafts, and more. This cultural exchange fosters diplomacy and nurtures relationships founded on mutual respect and curiosity.
Senator Rana Mehmood Ul Hassan is leading a delegation from the Senate of Pakistan on the invitation of the Urumqi government, while 20 top mango exporters from Multan are actively participating in the expo.
Pakistan Mango Festival | The King Of Fruits | Discover Pakistan Tv#DiscoverPakistanTV #mangofestival #kingoffruits #cityofmangoes pic.twitter.com/6rizwiTLm1

— Discover Pakistan TV (@DiscoverpakTv) June 8, 2023
Under the theme of "Promoting the Silk Road Spirit, Strengthening Eurasian Cooperation," this year's expo covers an extensive exhibition area of 70,000 square meters. It boasts the participation of seven international organizations and over 1,300 businesses from 40 countries and regions, including 25 of the world's top 500 companies.
In addition to the mango festival, numerous Pakistani exhibitors are showcasing the nation's rich cultural and traditional products. The event also hosts a total of 33 trade and investment promotional activities and forums on topics like regional economic cooperation.
The (China) Eurasia Commodity and Trade Expo, held three times since 2015, continues to draw global attention, with over 3,700 businesses from 47 countries and regions participating, solidifying its position as a vital platform for international trade and cooperation.