A Muslim crowd attacked a Christian community in Jaranwala, Faisalabad on Aug. 16 after two of its members were accused of blasphemy against the Quran. While there were no reports of injuries or deaths, the large-scale rampages Wednesday marked some of the most serious outbreaks of sectarian violence in recent years in Pakistan.
Afzal Aftab, a respected member of the community, journeyed to Jaranwala, Faisalabad, to provide an update on the current situation in the area following the tragic and deeply saddening incident.
The locals wear no regrets on their faces as all the shops and markets have reopened, carrying on with their daily routines. Interestingly, amidst the challenging circumstances, there have been no words or actions of solidarity from the local Muslim community; instead, it's Christian NGOs that are actively providing assistance.
Remarkably, the Punjab government has swiftly initiated the reconstruction of churches, immediately commencing the restoration work. It's a poignant scene as people are now sitting amidst the remnants of their homes. What's striking is the uniformity of the fire's impact, with all burnt churches located approximately 1-2 kilometers apart, suggesting a consistent use of materials in the fires.
It becomes evident that a meticulously planned operation unfolded, with mobs specifically targeting Christian families. They arrived equipped with loaders, tools, and equipment to systematically loot and demolish homes, Christian schools, and pastor houses.
Bishop's Cry from Jaranwala.
Speaking to the Press after seeing the burnt homes, destroyed Churches, burnt Bibles and traumatized Women and children. Please continue to pray for Jaranwala. pic.twitter.com/orsRzlQKvZ

— Bishop Azad Marshall (@BishopAzadM) August 19, 2023
In the midst of this turmoil, the unwavering faith of the affected people shines through. It's heartening to witness individuals requesting something as simple as a Bible, demonstrating the resilience of their faith.
We extend our heartfelt thanks to Brother Nadeem Saleem Boorat and the entire team for their dedicated efforts. We earnestly request your prayers for those enduring these hardships and for all the organizations tirelessly working in the area. Immediate needs include clothing and essential household items, so any contributions you can make towards this cause would be greatly appreciated.
Candlelight vigil in Karachi:
Organizers of the Minority Rights March convened a candlelight vigil and protest at Karachi's Teen Talwar on Saturday evening to condemn the Jaranwala incident.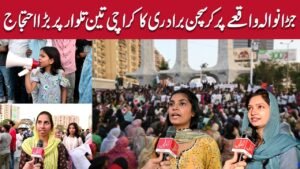 The event drew participation from activists, social workers, individuals from the Christian community, and representatives from diverse backgrounds.
The demonstrators passionately chanted slogans denouncing the perpetrators of the Jaranwala attack and brandished placards bearing the message "Stop the misuse of the blasphemy law."