A tragic incident occurred early Saturday as a New York City oncologist, Dr. Krystal Cascetta took her own life and that of her infant, according to law enforcement officials.
Dr. Krystal Cascetta, who worked as an oncologist at Mount Sinai Hospital, is believed to have shot her baby and then herself at their residence in Somers, a town situated about 50 miles northeast of New York City. The incident transpired around 7 a.m., as reported by the New York State Police.
Authorities from the state police department have indicated that the evidence at the scene points to a murder-suicide. While the age of the baby remains uncertain, Trooper Steven Nevel has stated that they possess definitive information confirming the nature of the tragedy.
Nevel refrained from disclosing further details due to restrictions, yet he emphasized the certainty that this was indeed a murder-suicide event. The call to 911 originated from within the residence. The individual making the call initially believed that a loud noise signaled a falling object upon hearing the first gunshot.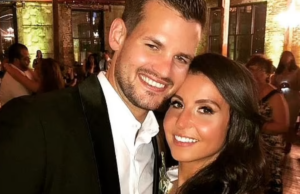 However, upon hearing another gunshot and reaching the baby's room, the caller forced their way into the locked space and encountered the lifeless bodies of the mother and child.
Dr. Krystal Cascetta's professional background revealed her specialization in treating various cancers, including breast, bone, gynecological, and gastrointestinal cancers. She held the position of site chief at the Mount Sinai Queens Infusion Center, a facility dedicated to cancer and blood disorder treatments.
Additionally, she served as an assistant professor of medicine in the hematology and medical oncology division at the Icahn School of Medicine at Mount Sinai. Dr. Cascetta's academic achievements were notable, with her induction into a national honor society during her time at Albany Medical College.
Her compassionate care, leadership, and commitment to service were acknowledged. She was also pursuing a master's degree in health administration at Cornell University.
In response to the heartbreaking incident, a representative from the Mount Sinai Health System expressed condolences on behalf of the institution.
The Mount Sinai community conveyed profound sadness at the loss of Dr. Cascetta and her child, extending sympathy to her family, friends, colleagues, and patients.