Yesterday, two significant elections took place in Pakistan that will be remembered for a long time. One was the mayoral election in Karachi, characterized by intense rivalry, clashes, and reports of vote rigging. On the other hand, Lahore witnessed the election of the Outdoors Advertising Association, where all members of the Progressive Panel were elected unopposed.
In Karachi, Murtaza Wahab was elected as the Mayor, while in Lahore, Adyan Lone, was elected as the President of the OOH Advertising Association. The election in Karachi was fiercely contested, whereas the election in Lahore taught a lesson of 'love and decency.'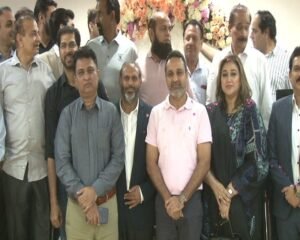 Shoaib Ghani became the Information Secretary for OOH Advertising Association, and we wish he will now establish friendly relations with the media. Mian Rafiq, a notable and respected figure in outdoor media, selected as the General Secretary.
Ms. Sabeen Amir was elected as the Executive Member, making her the only woman in the entire group. This ensures the representation of women's rights within the group.
Other selected candidates include Sheikh Fahad as Vice President, Kamran Bhatti as Secretary Finance, and Ijaz Chaudhry, Mahboob Aamir, and Abid Ali as Executive Members.
The election ceremony took place at the Swiss International Hotel.
Media Bites congratulates Adyan Lone and his team on this success and hopes that along with safeguarding the rights of outdoor advertising companies, they will also prioritize the rights of advertisers and building owners. Furthermore, the companies should ensure that they do not cause any harm to any party in their professional competition.