Sanjeet Kumar, a civil servant in Kashmir, is among the 5,000 villagers who have joined all-Hindu militia units armed and trained by Indian forces to fight off rebel attacks.
The Hindu nationalist government has stationed over half a million soldiers permanently in the Muslim-majority Kashmir regions it controls in a bid to crush the insurgency that has lasted for decades. Authorities announced the new militias last year, and a deadly rebel attack in Kumar's village in January prompted him to sign up.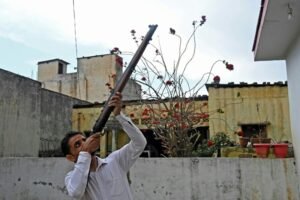 The new militia units, called Village Defence Guards, have been popular among the region's Hindu residents, but Muslim villagers are concerned that the militias will only exacerbate Kashmir's woes. Despite reservations, many villagers are clamouring to get their own arms, with some stating they will take full advantage of their weapons whenever needed.