In a groundbreaking moment for Pakistan, Erica Robin, a standout beauty from Karachi, has been crowned as the distinguished "Miss Universe Pakistan 2023." This victory marks a historic milestone, as Robin becomes the first Pakistani woman to secure this title.
Competing alongside four other models hailing from different regions of the country—namely Hira Inam from Lahore, Jessica Wilson from Rawalpindi, Pakistani-American Malika Alvi from Pennsylvania, and Sabrina Wasim—Erica Robin emerged as the epitome of grace and charm.
Expressing her sentiments upon being crowned Miss Universe Pakistan, Robin enthusiastically stated, "I am thrilled to represent Pakistan on the global stage. My mission is to showcase the unparalleled beauty of our nation, and I feel honored to be the first Miss Universe Pakistan."
Emphasizing the warmth and hospitality of the Pakistani people, Robin pointed out that the media often overlooks the country's rich and distinctive culture. In a simple yet impactful statement, she urged everyone to explore Pakistan, inviting them to savor the delightful Pakistani cuisines and behold the breathtaking landscapes, from snow-capped mountains to lush greenery.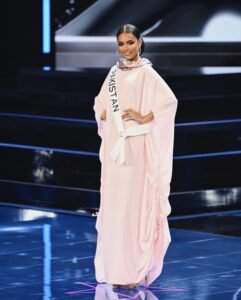 Secured Position Among Top 20 Contestants
Erica Robin left an indelible mark on the global stage at the 72nd Miss Universe competition in El Salvador, showcasing not only her enchanting personality but also paying homage to Pakistan's rich cultural tapestry through her stunning attire. Despite facing fierce competition from over 80 nations, Erica secured a commendable spot among the top 20 contenders, though falling short of the top 10.
As she prepares for her next endeavors, fans and fashion enthusiasts are keen to delve deeper into the story of the trailblazing Miss Universe Pakistan. Recent coverage in Harper's Bazaar Arabia highlighted Erica's involvement in various humanitarian causes, particularly her passionate participation in a Down syndrome awareness month event. Additionally, she has become an integral part of the Red Cross family, actively engaging with the youth in the Philippines and organizing events focused on shaping a visionary future.
Pehchann: Cultural Representation
Beyond the glitz and glamour, the 24-year-old beauty queen consistently showcases her appreciation for Pakistan's diverse cultures. During the Miss Universe preliminary competition, where national costumes took center stage, Erica donned a vibrant "Pehchaan" outfit, symbolizing her cultural identity.
Acknowledging the significance of slowing down in today's fast-paced world, Erica's love for the outdoors, highlighted by Bazaar Arabia, resonates with a global audience. In an Instagram post expressing her gratitude to the style magazine, she thanked them for recognizing the importance of a balanced life.
While beauty pageants are a global phenomenon, Erica's historic participation on the world stage has stirred excitement and pride in Pakistan. As the first-ever representative from the nation in the Miss Universe pageant, Erica embraces the responsibility, affirming, "I carry a significant responsibility and feel the pressure, but I am committed to upholding our country's reputation."