A recent #Gama 360° Advertisement Recall Study – a bi-monthly advertisement recall reserach, conducted by #PulseConsultant in the month of May, with 1,360+ respondents across the top 12 cities of Pakistan, amongst SEC A-D, age group 16-55 years.
Revealed that …
◼️55% of respondents reported that they have changed their brands from expensive to economic ones. In April 2023, this trend was 45%
◼️In April, 46% of respondents claimed that they are purchasing the same brands, but quantity has reduced, this phenomenon declined significantly in May (38%) with -8%
◼️With the increase of 3%, in May, 81% of the respondents reported that they have reduced their monthly home purchases, and this ratio was 78% in the month of April.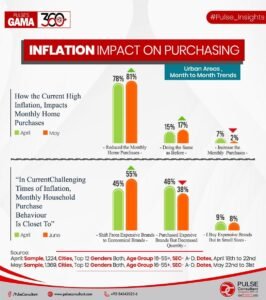 To Understand the Consumer's Behaviour & Attitude to the Current #Inflation Wave in more detail
Join #PulseCosnultant Syndicated Research
Gauging the Impact of Inflation on Purchasing & Consumptions Behaviours
For 40+ Categories – Looking at The Consumer's Mood On the Following #5 Parameters
1 -Consumption Increased/ Decreased
2 – The brand Switched
3 – Brand Retained but Quantity Reduced
4 – Brand Retained but Changed The SKU
5 – Category Consumption Dropped
Scope : Methodology: Face-to-Face Interviews Sample: 1,704, Geography Top 17 Cities,
Gender: Males 30%, Females 70%, Age Group 22-55 Years, SEC – A-D. Timelines – 4 weeks
Don't miss the Much Needed, Robust, Reliable & Cost-Effective Research Solution
For Details Contact
Ammad Saleem -0346 2738943