Burger King has witnessed an increase in sales as part of its efforts to rejuvenate its business, yet a significant challenge persists: attracting an insufficient number of customers.
In the second quarter, which concluded on June 30, sales at Burger King's US establishments that had been operational for at least 13 months surged by 8.3% compared to the previous year. Globally, encompassing both the US and other regions, sales at Burger King outlets open for a year or more experienced a growth of 10.2%.
Pink BG in Brazil in combo with Barbie:
However, the majority of the sales surge in the US was attributed to higher spending by existing customers rather than an influx of new patrons. This trend could become problematic if US consumers continue to curtail their spending.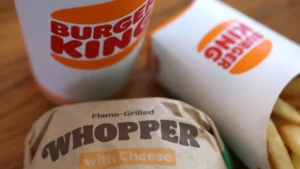 During a recent analyst call discussing quarterly financial results, Josh Kobza, the CEO of Burger King's parent company, Restaurant Brands International (QSR), pointed out a decrease in Burger King's customer base over the past three months when compared to the previous year.
Although Kobza noted an improvement in the trend, he mentioned that the brand has not yet achieved positive territory and highlighted the urgency of boosting customer traffic as a crucial short-term opportunity.
Burger King has placed the Whopper at the forefront of its turnaround endeavors.
In the preceding year, Burger King unveiled a strategy to revitalize its business, involving a $400 million investment to enhance the brand's prospects.
This financial allocation encompasses $250 million dedicated to modernizing restaurant technology, kitchen facilities, and renovations, along with an additional $150 million allocated for advertising and digital initiatives.
Up to this point, the company has expended around $32 million on advertising and digital ventures, while also channeling $35 million toward renovations and other physical enhancements.
A key facet of this strategy revolves around enticing customers to rediscover Whopper, Burger King's iconic hamburger offering.
** Taking a lead from CNN