YouTube has announced the debut of YouTube Premium in Pakistan, a paid membership that amplifies the viewing experience with ad-free, offline, and background play.
The social media platform has exciting news for its viewers in Pakistan as it announces the launch of YouTube Premium, a paid membership that aims to enhance the viewing experience with several exclusive features.
Subscribers to YouTube Premium will enjoy an ad-free experience, the ability to play videos in the background while using other apps, and the option to download videos for offline viewing, all at a starting price of Rs479.
Besides of YouTube Premium, the platform is also introducing YouTube Music, a dedicated music streaming app that allows users to access their entire YouTube music library in one convenient place. Music enthusiasts will be delighted to know that YouTube Premium membership automatically includes access to YouTube Music Premium as well, enabling them to save their favorite music on their local devices.
The subscription options cater to various needs and preferences. Individuals can choose YouTube Premium for Rs. 479 or opt for the Premium Family Plan, priced at Rs. 899, which allows them to share their Premium benefits with up to five other members. Meanwhile, YouTube Music Premium is separately available for Rs. 299, and for those seeking a shared music experience, the Music Premium Family Plan starts at Rs. 479.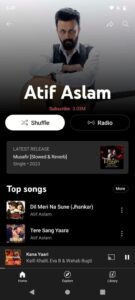 To make it more accessible for students, YouTube offers discounted plans: the Premium Student Plan for Rs. 329 and the Music Premium Student Plan for Rs. 149 on both web and Android platforms. To be eligible for these student plans, students must be enrolled in higher education institutions that participate in the YouTube student discount program and are approved by SheerID.
Read More news: Apply CNIC from your home: A Step-by-Step Guide!
As a special treat for first-time subscribers, YouTube offers a one-month free trial for YouTube Premium or YouTube Music Premium. This gives users the opportunity to explore the benefits and decide which plan suits them best.
The YouTube Music app can be downloaded from the Google Play Store and the iOS App Store.