The government of Balochistan has introduced its first-ever 'Green Bus Service' in the capital city of Quetta. This initiative aims to address the transportation needs of citizens who have lacked access to quality commuting services in the city.
Currently, there are around 550 local transport buses operating on 15 different routes in Quetta, serving thousands of daily commuters. However, most of these buses are old and not suitable for travel. The All Mutahida Bus Association Quetta reports that local buses traverse the city's various routes every four to ten minutes to accommodate its population of 2.8 million.
Other provinces in Pakistan, namely Sindh, Punjab, and Khyber Pakhtunkhwa, have implemented similar projects by introducing metro bus services in populated cities such as Karachi, Lahore, Rawalpindi, Peshawar, and Multan. However, this newly launched Green Bus Service in Quetta is the first of its kind in both the city and Balochistan, the country's largest province in terms of size.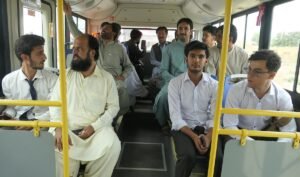 During the inauguration ceremony held in Takatu, a suburban area of Quetta, Balochistan Chief Secretary Abdul Aziz Uqaili announced the initial launch of the luxury bus service with eight fleets. He further mentioned plans to acquire an additional 20 buses to expand the service across major routes in the city. The intra-city bus service will cover a distance of 18.7 kilometers, with 18 designated stops. Uqaili also noted the provision of special seats for persons with disabilities in the buses.
Habibullah Lehri, who has 15 years of experience working with inter-provincial transport companies, has been hired by the provincial government to manage the bus service. According to Lehri, the luxury buses have a seating capacity of 30 passengers. He expressed that the government has set a reasonable fare of Rs30 ($0.11) for commuters along the entire route, from Baleli to Quetta's Sariab Road, ensuring affordability for underprivileged citizens.