The Punjab interim government on Tuesday announced an increases in salaries for government officials across various grades, addressing the long-standing demands of public servants.
The decision comes after persistent protests and advocacy by government employees for a raise in their salaries, signaling a positive development in the ongoing dialogue between the authorities and the workforce.
As per newly issued notification, officials employed in grades 1 to 16 are set to receive a substantial 35 per cent increase in their salaries, while employees in grades 17 to 22 will see their salaries boosted by 30 per cent.
In addition, the provincial government has given the green light for a 17.5 per cent increase in pensions, aimed at improving the financial well-being of retired government servants.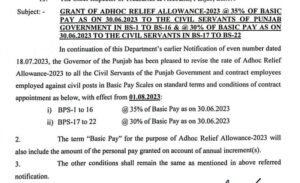 Furthermore, the regional government has granted an increase of 17.5 percent in pension disbursements. The enhancement in salaries will, however, be implemented based on the existing base salary of the civil servants, as specified in the notification.
It is noteworthy here that government employees in Punjab had recently engaged in protests to secure a hike in their salaries. The protests concluded with assurances from the federal government.
In order to exert pressure on the Punjab government to concede to their demands, a coalition known as the All Government Employees Alliance had been established.