The interim government has increased the prices of petroleum products by up to Rs20 per litre amid an increase in global oil rates starting from August 16.
According to the summary, petrol prices are projected to surge by Rs17.50 per litre, while diesel prices experienced a Rs20 per litre hike. This increase is attributed to a rise in global commodity prices.
It  is pertinent to mention here that crude oil prices have escalated by $5 per barrel, reaching $91 from $86 per barrel, driven by the global uptick in petroleum product costs. Moreover, an additional $2 per barrel premium is levied on crude oil.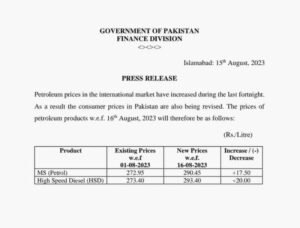 In the international market, diesel and petrol prices have also surged by $5, climbing from $97 per barrel to $102 per barrel.
Should these rates persist, Pakistan could witness a potential rise of Rs17.50 per litre for petrol and Rs20 per litre for diesel, based on the current rates.
During the preceding bi-weekly evaluation, the outgoing government had implemented a significant Rs19 per litre escalation in petrol and diesel prices, attributing it to alignment with the demands of the International Monetary Fund (IMF).
Earlier, the former government continues to inflict suffering on the people, by increasing the prices of petrol and diesel this firing on the people of Pakistan continues relentlessly until the very last drop of blood.
Today, Finance Minister Ishaq Dar conveyed to the people that there are no concessions or subsidies for them. Instead, the substantial budgets being allocated in the assembly are utilized to benefit o-called 'poor' members who struggle with election expenses.
People of Pakistan suggest that the fear of Imran Khan's popularity has caused discomfort among the PDM government.
The people of Pakistan bashes the government's commitment to financial prudence, citing the expenditure on sending a jet plane to the UAE three times to condole the death of the UAE President's brother.
They questioned the necessity of such actions, as many world leaders convey condolences over the phone. This indulgence of public taxes by rulers raises concerns about their credibility and seriousness in governing responsibly.