The 71st Miss World 2023 contest is all set to take place later this year in the picturesque region of Kashmir.
A total of 140 countries will be participating in this global event, thanks to the hosting opportunity arising from the G20 meeting held in Kashmir in May. The announcement was made during a breakfast press briefing held in Srinagar on Tuesday, as reported by IANS.
Present at the press briefing were notable figures such as Miss World Karolina Bielawski, Miss India Sini Shetty, Miss World Caribbean Emmy Pena, Miss World England Jessica Gagen, Miss World America Shree Saini, and Miss Asia Pricilia Carla Saputri Yules.
During the event, Karolina Bielawski expressed her appreciation for Kashmir's natural beauty and warm reception, stating, "Kashmir has everything and it is the best place to host an event like Miss World.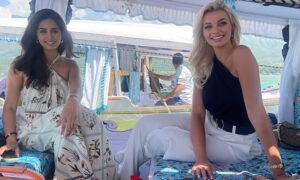 I am so grateful to see this beautiful place in India, the stunning lakes here, and the warm welcome from everyone. The hospitality we received was wonderful. It would be exciting to see 140 countries participating in the event. Every place has its own beauty, but the pleasant hospitality here has been overwhelming."
Miss India, Sini Shetty, also shared her pride in hosting the Miss World 2023 competition in Kashmir, likening the moment to Diwali as 140 countries come together in India to participate as one family.
All the pageant winners enjoyed a breakfast event alongside other dignitaries at a local five-star hotel. Rouble Nagi of Rouble Nagi Art Foundation and Jamil Saidi, Chairman of PME Entertainment in India, were among those present at this breakfast meeting.
Miss World America, Shree Saini, and Julia Morley, the chairperson and CEO of the Miss World Organisation, have joined the pageant winners on their tour of Kashmir. India is hosting this prestigious event after nearly three decades, with the last hosting taking place in 1996.