After inflated electricity bills and despite of protests, the caretaker government carelessly increased the petrol and diesel prices by over Rs14 and crossed 300 rupees. 
According to the Finance Division, the prices have been increased "owing to the increasing trend of petroleum prices in the international market and exchange rate variations".
The increase brings the price of petrol to Rs305.36 per litre and HSD to Rs311.84 per litre, the Ministry of Finance said in a post on X (formerly Twitter) after midnight.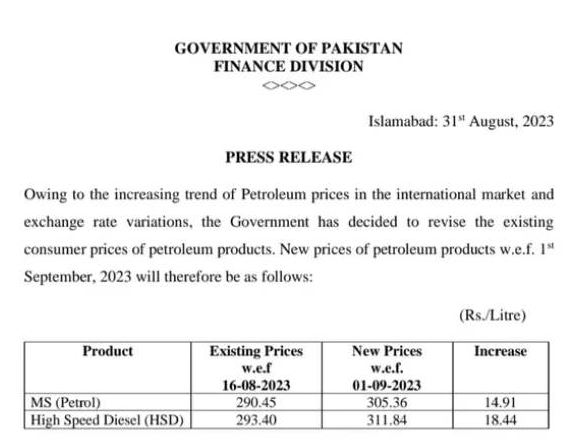 Earlier, prices of petrol is expected to increase from the start of September as crisis-hit country is battling worst economic crisis in recent time.
A dual blow of escalating prices awaits those grappling with inflation, who are already protesting against inflated electricity bills on the streets. According to local media sources, another surge in oil prices is looming, with reports suggesting that the cost of petrol could rise by Rs12 per liter starting from September 1, 2023.
This additional price hike is driven by a combination of rising global oil rates and the devaluation of the local currency, which has impacted the exchange rate. Notably, diesel prices are anticipated to climb by Rs14.83 per liter.
Recent weeks have already witnessed a substantial increase in petrol and diesel prices, surging by Rs37.50 and Rs40 per liter, respectively. The projected price hike will compound the existing challenges, given that petrol and diesel prices had already escalated by approximately Rs20 per liter in the preceding adjustment.
Earlier, the interim government has increased the prices of petroleum products by up to Rs20 per litre amid an increase in global oil rates starting from August 16.
According to the summary, petrol prices are projected to surge by Rs17.50 per litre, while diesel prices experienced a Rs20 per litre hike. This increase is attributed to a rise in global commodity prices.