Tahir Javed, a Texas-based Pakistani-American businessman and former donor to Imran Khan's PTI party, has been appointed as Special Assistant on Investment by caretaker Prime Minister Anwar-ul-Haq Kakar.
The question that emerges is whether Tahir Javed will be a valuable asset to the cabinet, particularly in terms of securing foreign currency for Pakistan, which is grappling with a deficit.
Tahir Javed consistently demonstrates an ability to establish connections and garner attention from influential figures within Pakistan. In each administration, TJ successfully secured a prominent position thanks to his influential Texas-based network.
Tahir Javed, the owner of the multi-million-dollar health company Riceland Healthcare, has been granted ministerial perks and has joined the cabinet, expanding the caretaker government to a total of 28 members.
Although he had previously been a supporter of Imran Khan and PTI, Tahir Javed has now emerged as a prominent critic. He characterizes Khan as an ineffectual leader lacking substance, and he goes on to label him a failed Prime Minister whose sole claim to fame stems from his celebrity status as a cricketer.
Tahir Javed had consistently been in the spotlight, both in Texas, US, and Pakistan, primarily due to his association with Khan.
He played a key role in organizing meetings for Khan with US Senators during Khan's visit to the USA in 2019 but has since distanced himself from the former Prime Minister after he was no more on the hot seat.
Tahir Javed moved to the US from Pakistan with minimal resources and initially faced legal troubles, including a theft conviction in Texas.
He has built a successful business career and even ran for Congress in 2018, albeit unsuccessfully.
In his new role, Javed pledges to bring overseas investment to Pakistan and expresses support for the interim administration, believing that Pakistan's short-term problems can be overcome.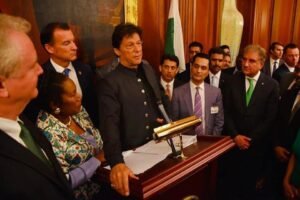 Tahir Javed, who asserts his proximity to the Joe Biden administration, has made a commitment to attract foreign investments to Pakistan in his new capacity. He has also expressed unwavering support for the interim government and believes that the challenges facing Pakistan are of a temporary nature and will be surmounted in the near future.