In the midst of an online frenzy sparked by a widely circulated video showing actor Nana Patekar appearing to slap a boy, filmmaker Anil Sharma has stepped forward to clarify the incident.
During an interview, Sharma shared the true background of the controversial video, making it clear that the incident was a carefully orchestrated scene for his upcoming film.
Contrary to the social media uproar, Anil Sharma affirmed that Nana Patekar did not engage in a real altercation with a fan. He explained that the scene in question was part of the film shoot taking place in the bustling streets of Banaras. Sharma emphasized that the scene required Nana to deliver a scripted slap to a character within the film's narrative. Unfortunately, the action was misinterpreted when onlookers gathered to witness the filming.
Expressing his disappointment, Sharma highlighted how people captured the scene on their mobile phones, leading to the misleading portrayal of Nana Patekar as an aggressive actor. He urged the public to understand the reality behind the video, emphasizing that it was merely a scripted scene and not an actual incident of aggression.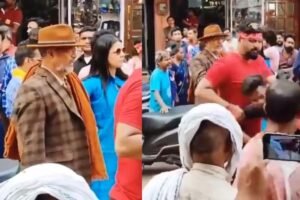 The viral video depicted Nana Patekar, dressed in a brown blazer and hat, engaged in a filming session. In the clip, a boy approaches him for a selfie, seemingly provoking Nana's aggressive reaction. However, Anil Sharma's clarification suggests that this was a misinterpretation of a scene being filmed for the movie.
Netizens swiftly reacted to the video, expressing disapproval of Nana Patekar's behavior. Amid the controversy, Sharma's explanation offers a different perspective, underscoring the importance of understanding the context behind such viral clips.