The arrest of former Prime Minister Imran Khan over the weekend on charges related to Toshakhana corruption saw a lack of significant protests from PTI loyalists across the nation.
Surprisingly, there was an absence of significant demonstrations throughout the entire country.
This contrasts starkly with a few months prior, when the 70-year-old leader was taken into custody from an Islamabad court complex on May 9. This incident triggered widespread protests across the nation, some of which escalated into violent clashes between Mr. Khan's supporters and security forces. A number of demonstrators even resorted to raiding military installations and looting the residence of a senior military commander in Lahore.
However, this time around, authorities were well-prepared when Mr. Khan received his sentence and was subsequently transported to a prison in Attock city. His destination remained shrouded in secrecy, with reports indicating the use of decoy convoys to mislead the media. Law enforcement and the military were on high alert across major cities, resulting in the preemptive apprehension of numerous individuals.
The ruling party in Pakistan, along with the army, has pointed to the lack of protest following Mr. Khan's arrest as an indication that his support among the populace has waned. In contrast, the Pakistan Tehreek-e Insaf (PTI) party and its supporters claim that they have been silenced by a swift and severe crackdown. Allegedly, media outlets were instructed to avoid coverage of PTI activities and even mentioning Mr. Khan's name on air, following the mass protests in May.
Since May, thousands of Mr. Khan's supporters have been arrested. The military has announced their intention to subject these individuals to military courts, a move that human rights organizations assert contravenes international law. The PTI has also faced a systematic dismantling, with numerous party members, including workers and leaders, detained or entangled in legal proceedings. Mr. Khan himself remains embroiled in around 200 legal cases. In the wake of these events, several PTI members have defected or completely withdrawn from politics.
Ali Akbar, a senior political analyst, contends that the reason Mr. Khan's call for protest went unheeded this time is multifaceted. Not only were workers and supporters apprehensive about arrest, but the absence of effective leadership within the PTI also hindered their ability to rally support.
One PTI supporter, Fatima (name changed for privacy), reveals that police actions against party leaders have coerced her into silence, even in online spaces. She explains that despite previously supporting the party on Twitter, an anonymous phone call warning her against such tweets compelled her to delete her account.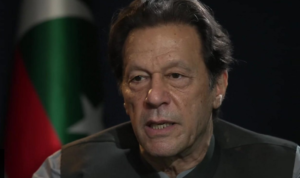 Another party worker expressed reluctance to put himself in a precarious situation, given the apparent readiness of the police to apprehend any protest participants. This sentiment is echoed by Naheed, a homemaker in the conservative Khyber Pakhtunkhwa province, who discloses that due to the numerous arrests of party members, her family has discouraged her from associating with other female party workers.
Many individuals who spoke with the BBC shared their disinclination to engage in protests this time around. One anonymous man conveyed his belief in peaceful demonstrations but was disheartened by the violence that unfolded during the May protests. He conveyed his inability to support such destructive acts.
However, despite the subdued public response, a considerable number of individuals still silently endorse Mr. Khan and the PTI. This "silent support" manifested tangibly as the PTI recently secured victory in a by-election, significantly reversing its previous loss in the same area.
Irfan Khan, a political analyst, observes that anti-establishment positions swiftly gain traction in Pakistan. He cites the example of the Pakistan Muslim League (PML) winning by-elections, even in areas traditionally aligned with the PTI, when the PML adopted an anti-establishment stance during the PTI's time in power.
When Mr. Khan ascended to power in 2018, he was initially perceived as an ally of the establishment. However, his relationship with the establishment soured, leading to his apparent ousting.
Despite the challenges and adversity faced by the PTI and its supporters, many remain resolute in their loyalty to Mr. Khan and the party. PTI supporters like Fatima and Naheed assert that the current actions will not sway their allegiance. They emphasize that their love for Mr. Khan and the party continues to grow, and they intend to maintain their unwavering support in the upcoming general election expected later this year.