LED TVs are dominating the market. Manufacturers release a great number of models every year including different features. You might not get the excellent picture of an OLED, but the gap is narrowing. Their biggest advantages are their brightness, that allows them to get almost twice as bright as the OLEDs, and the fact that they are not prone to burn-in.
We've tested 68 LED LCD TVs and below are our recommendations for the best LED TVs you can buy in 2019.
Best LED TV:
Samsung Q9FN:
Type : LED     Resolution : 4k    Sizes : 65″ 75″
Pros:The Samsung Q9FN is the best LED TV that is widely available. The QLED Samsung Q9FN has a great picture quality. Blacks look deep in a dark room thanks to the high native contrast ratio and the very effective local dimming feature. The Q9FN has excellent HDR performance with vivid colors and highlights that pop. It can get very bright to fight bright room glare and has excellent reflection handling. This TV is also good for gaming as it has a very low input lag, FreeSync support, and a very fast response time that only leaves a small blur trail in fast-moving content.
Cons: Unfortunately, the Q9FN has bad viewing angles and thus it is not the best choice if you will be watching the TV at an angle.
Overall, the Samsung Q9FN is an excellent TV that performs well in any type of usage.
 VIZIO P SERIES QUANTUM:
Type : LED     Resolution : 4k    Sizes : 65″
Pros: Although it can be difficult to find it in stock, the Vizio P Series Quantum is the best LED LCD TV we've tested. The Vizio P-Series Quantum's overall image quality is as good as any non-OLED TV on the market. It's blindingly bright, offering a superb HDR image and great performance in a bright room. Effective full-array local dimming creates deep black levels and minimizes blooming. Styling is sleek and modern.The Vizio P Quantum should also be cheaper if you manage to find it.
Cons: Some banding artifacts in 4K HDR material. Poor remote and smart TV features. Only available in a 65-inch size.
If you can't afford an OLED TV, the Vizio P-Series Quantum is the closest you'll get to picture quality perfection.
Best Mid-Range LED TV:
Sony X900F:
Type : LED     Resolution : 4k       Sizes : 49″ 55″ 65″ 75″ 85″
If you find the Samsung Q9FN and the Vizio P Series Quantum too expensive, the best mid-range LED TV is the Sony X900F. It isn't quite as bright as the Quantum or the Q9FN, and the BFI feature isn't as versatile, but this shouldn't change much for most users
Pros: On the upside, the Sony X900F is a great TV with deep blacks due to its high native contrast ratio and local dimming support that helps it do great in dark rooms. It has a wide color gamut with rich and saturated colors that make highlights look great in HDR content. Motion handling is very good, and sports fans will appreciate the fast response time whereas gamers will enjoy the low input lag.
Cons: Picture quality degrades at an angle
Overall, the Sony X900F is an LED LCD TV that will keep most people satisfied with its great performance in almost any usage. If you can still find it, the X900E is an equally good choice.
CHEAPER ALTERNATIVE:
VIZIO P SERIES 2018: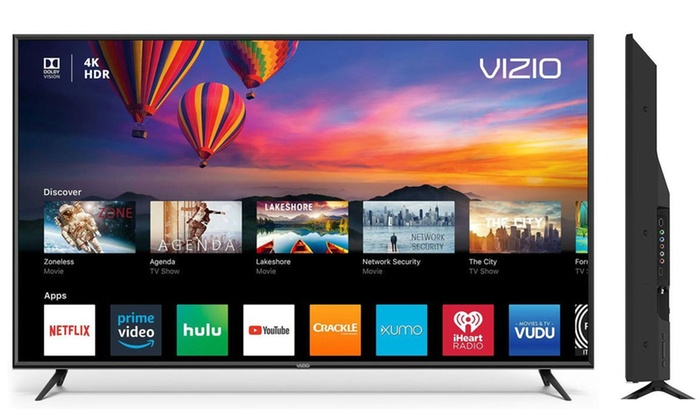 Type : LED     Resolution : 4k     Sizes : 55″ 65″ 75″
Pros: If you find the Sony X900F pricey but still want to get a mid-range LED TV without compromising picture quality, then get the Vizio P-Series 2018. The Vizio can't get as bright as the Sony and does not have as good gray uniformity. On the other hand, it has an excellent picture quality with deep blacks, excellent motion handling and a very low input lag which will please most gamers. The Vizio P Series 2018 is an LED LCD TV that delivers more for its price tag.
Cons:  Its smart TV system is poor. Overall image quality isn't significantly better than less expensive TVs.
Yes, it has an excellent picture for the money, but Vizio's P-Series is a worse value than the cheaper TCL and not "luxury" enough to contend with Sony and Samsung.
ALTERNATIVE FOR GAMING:
SAMSUNG NU8000:
Type : LED     Resolution : 4k      Sizes : 49″ 55″ 65″ 75″ 82″
Pros: If you want a good mid-range TV with better gaming features than the Sony X900F, get the Samsung NU8000. It delivers very good performance for most uses, but it has some additional features over the X900F that make it a great choice for gamers. It has lower input lag, and it supports a variable refresh rate that reduces screen tearing and it will automatically enter game mode when it detects a game being played on a supported console.
Cons: The NU8000 has a much more limited edge-lit local dimming system that isn't as advanced as the X900F, so dark room performance isn't quite as good.
Best Budget LED TV:
TCL R617:
Type : LED      Resolution : 4k     Sizes : 55″ 65″
Pros: If the Sony X900F is too expensive, the TCL 6 Series R617 is the best budget LED TV that we have reviewed. The R617 delivers great performance for most uses. It has excellent dark room performance thanks to the deep contrast ratio and full-array local dimming system. It also has excellent low input lag, perfect for gaming or for use as a PC monitor.
Cons: There have been widespread reports of gray uniformity issues with the R617 which may or may not have been fixed, so sports fans might not be pleased with this model.
Overall, the R617 is a very good 4k LED TV that fits well in most rooms and should please most people.
** You can visit Hall Road Lahore/ Saddar Karachi for the above mentioned LED TVs.