Several government departments in China's far western region of Xinjiang have banned Muslim staff from fasting during the month of Ramadan.
One department website said that civil servants cannot "take part in fasting and other religious activities".
China has banned officials, students and teachers in the predominantly Muslim region of Xinjiang from fasting during Ramadan and instructing restaurants to stay open.
Most Muslims are required to fast from dawn to dusk during the sacred month, which began on Thursday. However, the Chinese Communist Party is officially an atheist and has been limiting the practice for years in Xinjiang, home to predominantly Muslim Uighur minorities.
"Workplaces for food will function at normal times during Ramadan," said last week on the website of the Food and Drug Administration in Jinghe County, Xinjiang.
Officials in Bole County in the area said, "During Ramadan do not engage in fasting, vigils or other religious activities," said the local administration's report on the meeting this week.
Every year, attempts by the authorities to ban fast among Uighur Muslims in Xinjiang have been widely criticized by the ruling group.
Uighur human rights groups say that Chinese restrictions on Islam in Xinjiang have led to ethnic tensions in the region, where hundreds of people have been killed in clashes in recent years.
China says it faces a "terrorist threat" in Xinjiang and officials accuse "religious extremism" of increasing violence.
But our correspondent says that with Beijing blaming extremist Uighurs for growing violence, the ban is likely to be seen by many Muslims as an attack on their religion, further increasing tensions.
Among those imposing a ban are a commercial affairs department and a government hospital which got Muslim staff to sign a written pledge that they would not fast.
State-run newspapers have in addition been running editorials warning about the health dangers of fasting.
Many Uighurs say that the suppression of their cultural and religious freedoms is fuelling the unrest in the region
"China's ban on fasting is intended to force Uygas to move away from its Muslim culture during Ramadan," said Dilxat Rexit, a spokesman for the persecuted World Uighur assembly.
"Policies that prohibit religious fasting is a provocation and will only lead to instability and conflict."
As in previous years, schoolchildren were involved in policies that restricted Ramadan and other religious ceremonies.
The Tarbaghatay Educational Bureau, known in China as Tacheng, ordered schools this month to tell students that "during Ramadan, ethnic minority students do not fast and do not enter mosques … and do not attend religious activities."
Similar contracts were also published on the websites of other educational institutions and schools in Xinjiang.
Officials in Qiemo province met with local religious leaders this week to inform them that during Ramadan, the "maintaining social stability" inspections should be improved, the official website of the county governments.
Ahead of the holy month, a village in Yijia, near the border with Kazakhstan, said that mosques need to check the identity cards of all who come to pray during Ramadan, according to the government's website.
Bole City Council said Mehmet Talip, a 90-year-old member of the Uighur Communist Party, promised to avoid fasting and vowed to "not enter a mosque in order to consciously resist religious and superstitious ideas".
What does this harsh official rhetoric mean for China's estimated 23 million Muslims — 10 million of whom live in Xinjiang? China's Muslims make up less than 2 percent of the Chinese population — the Han majority, in contrast, make up about 92 percent of the population, according to China's 2010 Census.
Uighurs and Xinjiang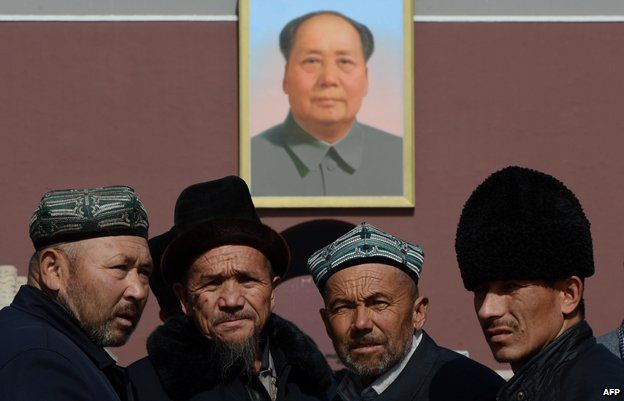 Uighurs are ethnically Turkic Muslims
They make up about 45% of the region's population; 40% are Han Chinese
China re-established control in 1949 after crushing short-lived state of East Turkestan
Since then, there has been large-scale immigration of Han Chinese
Uighurs fear erosion of traditional culture