An iconic drink of the subcontinent is missing from Indian stores, leaving tens of thousands of its fans craving for it. In the need of the hour, Pakistan offers help.
New Delhi, India – Shaista Begum is fasting and it's quite hot outside her home in New Delhi's historical Chandni Chowk area. But the heat doesn't deter her from making yet another attempt to find Rooh Afza, a popular rose-flavoured beverage, at a neighbourhood store.
The store still doesn't have it. Determined, the 45-year-old mother of three children walked to an outlet of Hamdard, the company that makes the iconic drink, and is happy to find a bottle.
"I went to at least 10 shops in the area, which always used to have Rooh Afza. Strangely, everyone said it was not available in the market, which is why I walked in this heat and got it from this Hamdard store," Shaista said
The sales of the drink usually shoot up during the month of Ramadan, as tens of thousands of Indian Muslims break their fast with the herbal-infused beverage.
With the market share in India worth $57 million, the drink is equally popular among Hindus, Sikhs and other faiths as well.
Gautam Chauhan, a resident of New Delhi, has been eagerly waiting  for it to be back in stores. "Rooh Afza has been my favourite sherbet since my childhood days," he says. "I used to have a chilled glass of it after finishing a game of cricket."
Amidst the shortage of the drink, Chauhan is willing to spend extra money to buy a few bottles, even seeking online options to get it from abroad.
With more and more Indians expressing their disappointment over the absence of the drink, Pakistan has offered help.
Rooh Afza is manufactured in Pakistan as well. Usama Qureshi, who worked at Hamdard Pakistan as CEO until last week, recently tweeted that his company is happy to fill a deficit in India.
"We can supply RoohAfza and RoohAfzaGO to India during this Ramadan. We can easily send trucks through Wagah border if permitted by Indian Government."
"We can supply RoohAfza and RoohAfzaGO to India during this Ramdan. We can easily send trucks through Wahga border if permitted by Indian Government," Usama Qureshi, MD and CEO of Pakistani Hamdard, tweeted.
Pakistan's foreign ministry spokesperson Mohammad Faisal was quick to back Qureshi saying, "if the supply of Rooh Afza from Pakistan quenches their thirst, then we will certainly want to do so."
The offer shook the internet, with people asking whether the drink trade will bring a thaw in otherwise frozen relations between India and Pakistan. The two nuclear archrivals have fought four wars and recently came close to fighting the fifth one after a suicide bombing in India-administered Kashmir claimed the lives of 44 paramilitary policemen in late February.
The Hamdards in India and Pakistan have common ancestry. In 1906, Hakeem Hafiz Abdul Majeed had laid the foundation of Hamdard Dawakhana in one of the by lanes of Old Delhi and in 1907 launched RoohAfza.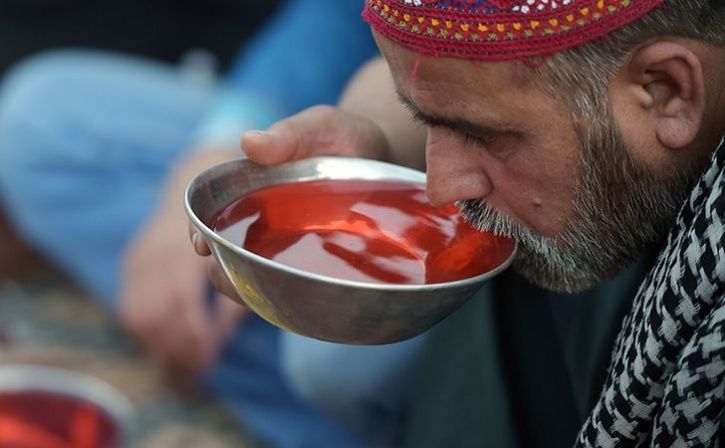 Following partition of the Indian subcontinent in 1947, his elder son stayed in India, while the younger one migrated to Pakistan and started Hamdard in Karachi and launched RoohAfza there.
Meanwhile, Hamdard Laboratories India in a statemenmt said, "RoohAfza is now available in the market and can be bought from major retail stores and grocery outlets across the country."
"The organisation urges discerning consumers and the trade not to be misled by incorrect information being circulated online and in print about non-availability of RoohAfza," it added. PTI
The old rivalry
As the Indian government imposed trade restrictions in light of the fatal bombing, Pakistani Rooh Afza may face many hurdles before landing in Indian retail stores.
Hamdard Laboratories in India, which manufactures the drink, says a "shortage of key ingredients" has disrupted the supply chain.
Mansoor Ali, chief of marketing and sales at India's Hamdard, says that the company is trying its best to make the stock available at the earliest.
"It was purely the non-availability of herbals which subsequently led to the short supply of the product," he says.
Hamdard, the company that produces a variety of Herbal products, including Rooh Afza, was founded by Hakim Abdul Majeed in 1906. His aim was to launch products that prevented people from facing dehydration and heat strokes.
In India, Hamdard boasts about 450,000 retailers catering to millions of customers owing to the 600-odd products with at least 300 teams spread across different states. It has opened offices in 25 countries.
In neighbouring Pakistan and Bangladesh, too, the company and its products are successful.
It remains to be seen however if the generations-old refreshing sherbet could break the ice between India and Pakistan.