Former President George H.W. Bush, who spent a lifetime in public service and as the nation's leader scored a decisive victory over Saddam Hussein but battled a faltering economy, died Friday at age 94.
Family spokesman Jim McGrath said Bush died shortly after 10 p.m. Friday, about eight months after the death of his wife, Barbara Bush.
He is survived by five children, including former President George W. Bush and former Florida Gov. Jeb Bush. A sixth child died in early childhood. The late former president also is survived by 14 grandchildren.
Former President George W. Bush issued the following statement upon his father's death:
"Jeb, Neil, Marvin, Doro, and I are saddened to announce that after 94 remarkable years, our dear Dad has died. George H.W. Bush was a man of the highest character and the best dad a son or daughter could ask for. The entire Bush family is deeply grateful for 41's life and love, for the compassion of those who have cared and prayed for Dad, and for the condolences of our friends and fellow citizens."
President Trump, who is in Argentina attending the G-20 summit, also issued a statement on behalf of himself and first lady Melania Trump. It read in part:
"Melania and I join with a grieving Nation to mourn the loss of former President George H.W. Bush, who passed away last night.
"Through his essential authenticity, disarming wit, and unwavering commitment to faith, family, and country, President Bush inspired generations of his fellow Americans to public service — to be, in his words, "a thousand points of light" illuminating the greatness, hope, and opportunity of America to the world."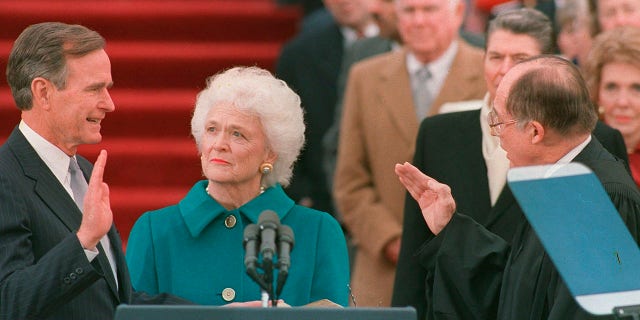 In childhood, he was nicknamed "have half" for his generosity in offering other youngsters half of whatever he had. After leaving office, he was often referred to as "41" – shorthand for his status as America's 41st president and to distinguish him from his son and fellow president, George W., who was known as "43."
George Herbert Walker Bush was born June 12, 1924 in Milton, Mass., the son of Dorothy Walker Bush and Prescott Bush, a banker who later became a Republican senator from Connecticut. The family, which included four sons and one daughter, was wealthy and politically active.
Bush attended Phillips Academy in Andover, Mass. and after graduating on his 18th birthday, he enlisted in the U.S. Navy. He was commissioned that same year, becoming the youngest pilot in the Navy, and flew 58 combat missions in the Pacific. In 1944, he was hit by anti-aircraft fire 600 miles south of Japan but managed to bail out, and was awarded the Distinguished Flying Cross and three Air Medals.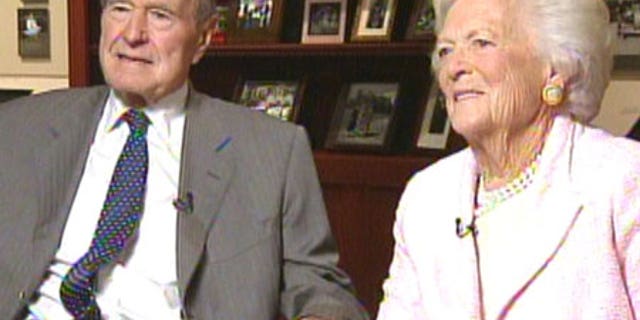 On January 6, 1945, the 20-year-old Bush married 19-year-old Barbara Pierce of Rye, N.Y., whom he had met at a Christmas party three years earlier. They had four sons, George, Jeb, Neil and Marvin, and two daughters, Robin and Dorothy. Robin died of leukemia at age 3.
Following World War II, he enrolled at Yale University, where his first son, George W., was born. Bush graduated Phi Beta Kappa with a degree in economics and was captain of the varsity baseball team.
In 1980 he was elected to the first of two terms as Ronald Reagan's vice president and in 1988 was nominated by the Republicans to carry the party's banner, with Sen. Dan Quayle of Indiana as his running mate, in that year's presidential election.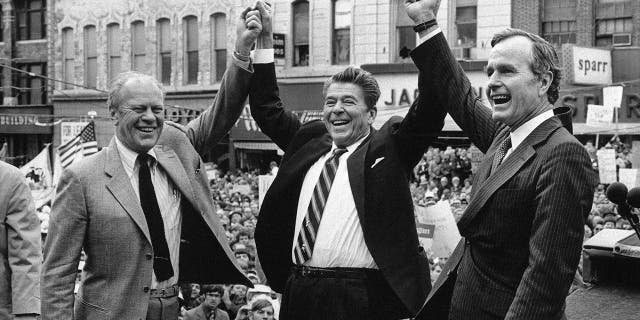 "This is America…a brilliant diversity spread like stars, like a thousand points of light in a broad and peaceful sky," he said in his convention acceptance speech and the "thousand points of light" phrase came to be associated with his administration.