The 'tireless' artificial news readers simulate the voice, facial movements, and gestures of real-life broadcasters.
China's state news agency Xinhua this week introduced the newest members of its newsroom: AI anchors who will report "tirelessly" all day every day, from anywhere in the country. Chinese viewers were greeted with a digital version of a regular Xinhua news anchor named Qiu Hao. The anchor, wearing a red tie and pin-striped suit, nods his head in emphasis, blinking and raising his eyebrows slightly.
Xinhua also presented an English-speaking AI, based on another presenter, who adds: "The development of the media industry calls for continuous innovation and deep integration with the international advanced technologies … I look forward to bringing you brand new news experiences."
Developed by Xinhua and the Chinese search engine, Sogou, the anchors were developed through machine learning to simulate the voice, facial movements, and gestures of real-life broadcasters, to present a "a lifelike image instead of a cold robot," according to Xinhua.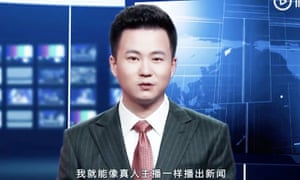 The broadcasters made their debut during China's annual World Internet Conference, an event meant to be China's Davos for the tech sector as well as a platform for China's vision of the internet and potential for new technologies.
"We are an important advocate for peace in cyberspace and a guardian of order," said Huang Kunming, head of Communist Party's propaganda department, speaking at the event. "China stands ready to safeguard the sound order of cyberspace."
According to Xinhua, the AI technology is not limited to news presenting. The systems can be customised to different clients in other industries. Wang Xiaochuan, the head of Sogou, gave the example of a popular book reading app, Uncle Kai. "In the future, it could be your parents telling the story," he said in an interview.
For Xinhua's already tightly-scripted and controlled state news presenters, the AI anchors take things a step further. Video of the Chinese anchor quickly spread on social media in China, with as many impressed as alarmed. "A little bit horrible," one viewer said, to which one user responded: "Really scary." "Another said: "Shivering."
While praising the achievements, Xinhua and Sogou acknowledged its limits. "I, who was wholly cloned from a real-life host, have mastered broadcasting as well as the real host," the AI anchor said. "As long as I am provided with text, I can speak as a news host."