If you ask me what I would love in my dream man, my answer would consist of a few things: a good sense of humour, a feminist, sensitive and a fan of 'Andaz Apna Apna'. I know the last part sounds a bit weird but I'm just being honest. 🙂
But as much as I love Joseph Gordon-Levitt, it's not about him today. Moving on, I recently started dating this guy and what do ya know? He was the perfect one! He was tall, had an amazing charm about him, could make me laugh…you know, all the things that could make you go 'Aaila!'
However, one fine day as we were sprawled on the sofa and flicking through the remote, shuffling channels, I suddenly chanced upon the loves of my life, Amar and Prem.
But, just as the national debate of "Teja main hu, mark idhar hai!" was going on, he changed the channel and said,
"I DON'T REALLY LIKE THIS MOVIE"
WHHAAAAAAT? My heart went from 'Aaila' to 'Ui Ma' real quick!
So as any rational person would act in this situation I, of course, had this reaction,
Now you might be tempted to argue, why would I have such an adverse reaction to him not liking a movie? It's just a movie, right? To this, I say Andaz Apna Apna is not just a film, it's an emotion.
Where else would you find two crazy guys, one aspiring to be a millionaire and the other an actor, go on a quest for money? But things don't go as planned, instead, they meet crazy characters who make their life an absolute laugh-riot! Not to mention the confusion between Raveena being Karishma and Karishma being Raveena.
Moreover, how can anyone not like the following wickedly-amusing characters:
1. 'Mogambo ka bhatija Crimemaster Gogo', who has a weird obsession with people's eyeballs (cue: aankhe nikal ke gotiya khelta hu).
But, Gogo is a simple man. He just wants his money back from the Don, Teja and he finds happiness in small things like Amar beating up Prem. Moreover, Gogo thinks it's appropriate to do the "Dhaakki tiki" in front of his enemies, dozens of henchmen and two girls he has kidnapped because "gun me ek hi goli thi".
Gogo does not forget to seize an opportunity coz, 'aaya hu kuch toh lekar jaunga'. Moral of the story: Never let your efforts go to waste.
2. Bread ka Badshah aur Aamlette ka Raja, Bajaj. No, I am not talking about the hoity-toity Ram Gopal Bajaj but his evil twin Teja, who didn't have the mark.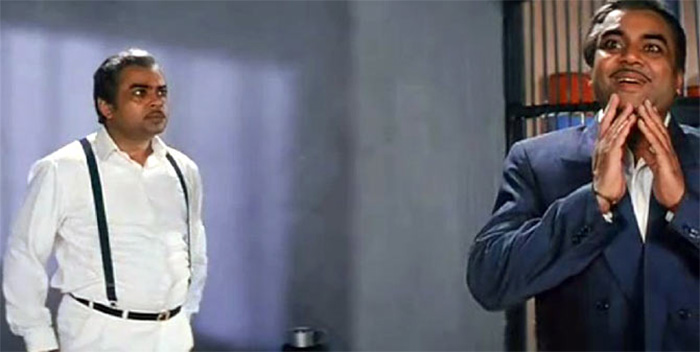 Now, the movie might have made Teja out to be the bad guy and if you listen to Amar, he might also be a kachcha khiladi. Because "usne baap ko kidnap kiya aur beti se paise maange, jab ki usse beti ko kidnap karna chahiye tha aur baap se paise maangne chahiye the."
But, Teja was just the ignored child who was jealous of his brother. Aren't we all? Trust me, there's a Teja in all of us. (cue: emotional K3G music) Also, Teja takes no shit from nobody, for example, this scene:
TBH, Amar and Prem were lucky unka game nahi kar daala.
3. Ram Gopal Bajaj: The slayer of Teja, owner of diamonds, father of Raveena, the one with the mark and fanatic of the word "Shut up". (See what I did there?)
I don't have any words to describe this man because he's just funny in his natural element.
The movie has also given us life hacks which we will not hesitate to use even today. Amar gave us hacks to save money because "Do dost ek pyaali me chai piyenge isse pyaar badhta hai". He gave us the epic reaction, filled with swag when you come out on top in a fight. Just say "Ya Jhakaas! Shabash mere cheete shabash!" and you're good.
And Prem? Well, he 'Ui Ma'-ed his way around hurdles and won the air-fight against Gogo because what punches can't do, your kamar can!
Of course, an honorary mention goes to the insult/compliment, "Aap purush hi nahi mahapurush hai mahapurush".
The movie's zingers in the form of Raabert and Bhalla committing all the 'galti se mistakes' had us rolling on the floor throughout.
All that being said you might not be a huge fan of the movie, it's okay if you don't like the film. But don't expect me to be your friend.
However, if you don't like the film only because you haven't watched it yet, there's only one thing I would like to say to you the next time it comes on, (*points to the TV*)
"AREY AAP IDHAR UDHAR KYA DEKH RAHE HAI? UDHAR IDHAR DEKHIYE UDHAR IDHAR!"
To be honest, it was the easiest decision of my life. I want to be around a man who can make Amar-Prem jokes, share tea from ek pyaali, and engage in an occassional 'mark idhar hai' reference. Is it too much to ask for? Am I making a mistake? Kya aap aisi galti karoge, Raabert?
NEVER. (in Bhalla's voice) 😎
Mediabites Editorial – Neha (Courtesy: StoryPick)